Current Affairs Daily Quiz: 8 March 2022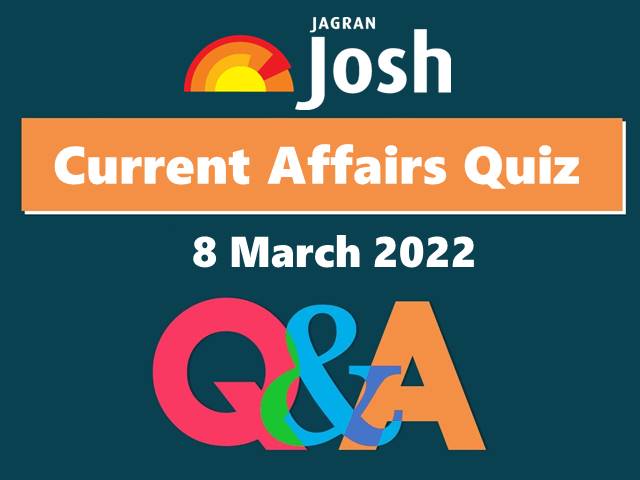 Current Affairs Questions for UPSC: The Current Affairs Quiz section of Jagran Josh aims to help every competitive exam aspirant to revise Current Affairs of the day at ease. The Current Affairs questions and answers cover topics such as Exit Polls 2022, International flight ban, Nari Shakti Puraskar 2021 and RBI UPI Payments service among others.
1. Which party is predicted to win an overwhelming majority in Uttar Pradesh Exit Polls 2022?
a) BJP
b) SP
c) BSP
d) INC
2. When will India resume scheduled commercial International passenger flights?
a) March 25th
b) March 26th
c) March 27th
d) March 28th
3. How many women were awarded Nari Shakti Puraskar 2021?
a) 15
b) 14
c) 27
d) 21
4. What is the name of the new payments service launched by RBI?
a) 120Pay
b) 123Pay
c) 157Pay
d) 234Pay
5. What is Digisaathi?
a) 24×7 Helpline
b) UPI Payments Service
c) Digital Payments App 
d) None of the Above
6. Which nation has threatened to detach itself from the International Space Station? 
a) Russia
b) China
c) Ukraine
d) South Korea
7. Which among the following countries is not on Russia's list of unfriendly countries?
a) Taiwan
b) Saudi Arabia
c) Japan
d) Australia
Answers
1. (a) BJP
The BJP is predicted to win an overwhelming majority in the Uttar Pradesh Assembly Polls 2022, as per Exit Polls 2022. The party is projected to break the state's anti-incumbency past and come to power for historic second term with over 300 seats in the 403 member state assembly 
2. (c) March 27th
India will resume scheduled commercial international passenger services from March 27, 2022 after a two-year hiatus. The move will now allow unhindered operation of flight to and from international destinations. The international flight operations will be subjected to strict adherence to Ministry of Health guidelines for international travel.
3. (b) 14
The President of India, Ram Nath Kovind, presented Nari Shakti Puraskar 2020 and 2021 at a function held at the Rashtrapati Bhavan on March 8, 2022, on the occasion of International Women's Day. The President honoured 29 outstanding women achievers for their exceptional work towards women empowerment, especially the marginalized and vulnerable women. Overall, 28 awards were conferred, 14 awards each for the year 2020 and 2021. 
4. (b) 123Pay
RBI Governor Shaktikanta Das launched a new UPI payments service for feature phones named UPI123Pay on March 8, 2022. The UPI payments gateway involves a three-step method to initiate and execute services for users.The service will benefit an estimated 40 crore feature phone users and enable them to undertake digital payments in a secure manner.
5. (a) 24×7 Helpline
The RBI Governor has launched a 24×7 helpline for digital payments called 'Digisaathi'. The helpline has been set up by the National Payments Corporation of India (NPCI) to assist the callers with all their queries on digital payments through the website and chatbot. The 24×7 helpline numbers are- 14431 and 1800 891 3333.
6. (a) Russia 
Russia has reportedly released a propaganda video that shows Russian cosmonauts disconnecting the Russian ISS modules from the International Space Station. The video is reportedly sort of a joke film or could even be a silent threat from Russia amid complete breakdown of relations with the United States and the west. 
7. (b) Saudi Arabia
Saudi Arabia is not on the list of unfriendly countries approved by the Russian government. The list includes countries that have imposed sanctions against Russia after its invasion of Ukraine. The list includes 22 nations including the United States, United Kingdom and European nations along with Japan, Canada and Australia among others. Saudi Arabia and most of the countries in the Middle East and South Asia including India, Pakistan and China are not on the list.